See the ways we ignite change through people, and partners, in our community and around the world.
Our vision is to Ignite Change in hundreds who will Ignite Change in thousands. Come join us as we ignite change in our community together.
Veteran Outreach Ministry
Thomas Acosta or Tommy-grunt, is a Vietnam War veteran who for the last 30 years has been praying for and connecting with veterans across the United States. You can find Thomas at the Texas Vietnam Memorial, building relationships and sharing the love of Jesus through fellowship and prayer. Learn More: https://www.facebook.com/texasvietnamveterans"
Embrace Grace
Ericka Felker is a Mother igniting change by sharing her story of hardship and leading Embrace Grace. Embrace Grace focuses on inspiring and equipping single and pregnant young women and their families. We encourage women experiencing unexpected pregnancies to receive practical, spiritual, and emotional support through our support groups. To learn more email: [email protected]"
Convoy Of Hope
Convoy of Hope is a faith-based organization with a driving passion to feed the world through children's feeding initiatives, community outreach, and disaster relief.   Convoy of Hope's goal is to serve people who are impoverished, hungry, and hurting.  Every November Bethel ignites change by participating in the One Day to Feed the World challenge where we take one month and donate one day of our salary to help towards nutritious food and clean drinking water that will go out to communities and help them towards a brighter future.
Missions
The Assemblies of God is the largest missions organization in the world. Missionaries ignite change beyond Bethel's reach. We currently support 24 missionaries from around the world.
Kids and Nursery
In Ignite Kids, we set up an environment for connections. We want each child to have a positive experience and great memories of church. The safety of our children is of the utmost importance so anyone wishing to work with children from the nursery through youth must have a thorough background check. We partner with parents to train and transform your kids into their God-given destiny. We want every child ready to go and minister as the Holy Spirit leads. At Bethel, we will help your children build a foundation of ministry that will last a lifetime.
Ignite Youth
Bethel is passionate about preparing the next generation to ignite change. Ignite youth is highly relational because we believe relationships are the arena where all true and transforming ministry occurs. We create and environment where they can connect, grow, and go.
Drive through prayer
Bethel ignites change through Drive-Thru-Prayer. Once a month cars will pull under the main portico, roll down their window, and receive prayer. We have seen many miracles as we meet people at the speed of life. Check Bethel's calendar for the next Drive-thru-Prayer.
Ignite classes
Ignite classes are one or two-day topic-specific training sessions. Classes are chosen, structured, and taught with Ephesians 4:11 in mind. Topics include:
• Worship as a lifestyle.
• Holy Spirit living.
• Prophetic ministry.
• The impact on the church.
Classes are held quarterly.
First Impression
When you first walk through the doors at Bethel you will be greeted by the smiling faces of people who are genuinely happy to see you. We are there to help answer your questions and show you around, we want you to feel welcome. You can grab a cup of coffee and a donut at our refreshment area and get to know us. We believe that we are made for community and that healthy relationships help us to grow and sustain us.
Life Group
Taking this step will lead you into transforming relationships. Relationships are the arena where all true and transforming ministry takes place. There are four kinds of groups; E-groups (a place to enter), G-groups (a place to grow), S-group (a specific topic), and T-groups (ministry teams).
Blue Shirts
We ignite change by purchasing our blue shirts through the Global Orphan Project (https://goproject.org/). Shirts are produced in Haiti making it possible to employee people breaking the poverty and orphan cycle. This is only a small picture of the great work this organization does everyday.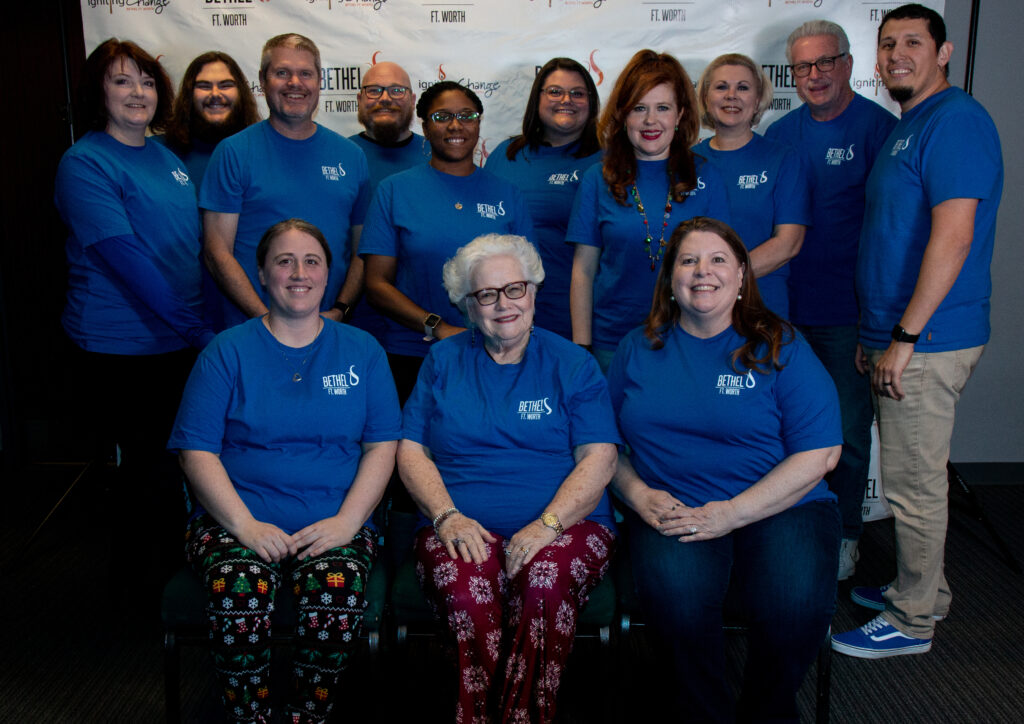 Newman International Academy 
Bethel connects east Fort Worth children to the nothing is impossible life by partnering with Newman International. They are dedicated to raising a generation/generations of well-rounded individuals who will realize their worth and purpose, find their interest and gifting, develop their skills, reach their highest potential, and meet the demands of this nation and world by receiving personalized educational experiences in a disciplined, nurturing and character-building environment facilitated through partnership between faculty, students, parents and community.
Southside Youth Association
Bethel ignites change through the Southside Hornets Youth Association. Every week inner-city Dads, mom, and children are mentored, learn basketball, cheer, and football. As part of the police Athletic League the children participate in the annual shop with a cop during the Christmas season. Southside has a C-4 vision to connect every inner-city child with a coach, counselor, cop, and clergy.